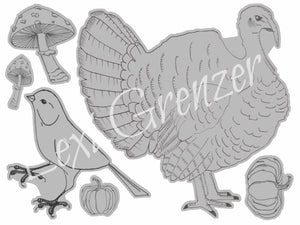 "Gobble Gobble" - Paintable Fall 2021Polymer Stamp Sheet  (6" x 8")
I am absolutely thrilled to be able to offer brand new designs for the Fall and Winter stamp release! That's three releases this year, compared to my once a year release, and that's thanks to all the interest you fab artists have had - so thaaank you!!

This release features a turkey, sparrow, mini pumpkins and mushrooms. These stamps were created with a specific purpose in mind. With limited line work and shading in the stamp designs, it leaves a great deal of room for you to watercolor and/or paint with acrylics, tombo markers, pastels...what ever medium you like! They are what I lovingly refer to as "Paintables".

Thank you for your support and interest in my designs. These were drawn by hand by me, and I'm thrilled to share them with you! Happy Holidays and Happy Creating!
~Lexi