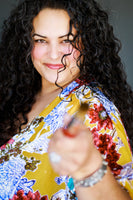 About The Artist
Lexi is a self-trained mixed media artist located in Northern California.  Her early work began in mixed media and jewelry design. Lexi's art work has been featured in the pages of Somerset publications, including Green Craft and Art Doll.
Lexi's art focus is largely nature inspired, and it's no surprise that birds are so frequently featured in her work - they are her favorite after all.
Lexi is a licensed designer for ESC & Company and IOD, otherwise known as Iron Orchid Designs.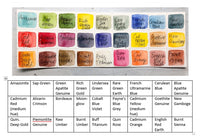 My Top 27
I get asked all the time what colors I couldn't live without, and it's a hard question. You see, I'm a Daniel Smith fan, and they have the most incredible colors to choose from. However, it's just not realistic to assume that we will buy all 300+ colors, so I narrowed my list down to 27 colors. It's important to note that when these colors are mixed, you get even more color variety…it's truly amazing! Many of the above colors come in 5ml tubes, some only come in 15ml tubes. There are many places to buy paint,but sometimes the most cost effective is on Etsy. There are many Etsy vendors that sell paint squeezed into half pans, and this saves a ton of money – also allowing you to try new colors without investing in tubes & tubes & tubes. You get the idea. I hope this helps – happy painting!!!
For color mixing, I love to share my favorite video on YouTube,and you can find it here.
Wanna Join us for CJS21?
Join me and 44 other incredible artists, for over 8hrs of art, incredible mini courses, and an amazing international art community! Click here to register for CJS21!
Lexi is an excellent teacher! Her classes are truly wonderful! She really makes learning to paint easy!

Renee
Highly recommend taking a class with Lexi. Great teacher - takes her time to answer all questions or to show techniques. She achieves vibrant/deep colors that are wonderful for watercolor!

Marie
Lexi always does an incredible job and I am thrilled with the washi tape!

Judy

Return Policy for Lexi Grenzer Art
A great deal of time goes into creating my online courses, and kits when applicable. Each lesson is offered via Zoom, and each lesson is accompanied by a recording of the class. As such, I do have a no return or credit policy on my classes.
With regard to merchandise purchased on my website, this is also a no return policy. However, if you were gifted something and simply wish to swap out, I'm happy to do that for items of equal or lesser value. In the event that you purchase an item, and it gets broken or needs repair, please message me, and we'll discuss options. Customer happiness is important to me,and I'm grateful for business!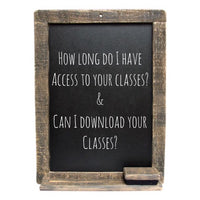 Class Access & Downloads
Once you purchase a class, you will receive an email attachment from Send Owl. If for some reason this does not come through within an hour of purchase please message me, and I'll email it directly. In your class outline, you will receive a link for your classroom and it's corresponding date(s). All class downloads are provided (upon completion of class) in a private Facebook Messenger group, which you will be added to at the time of purchase. If we are not yet "friends" on Facebook, please send me a friend request, and I'll add you straight away.
In the event that you wish to download your lessons to your private computer, you can certainly do that. Please keep in mind that each February 1st I clear out the prior year's classes. This allows me to have room for a new year of class content. So be sure to download your purchased classes before February 1st of each year, so you can continue to enjoy them through the years.