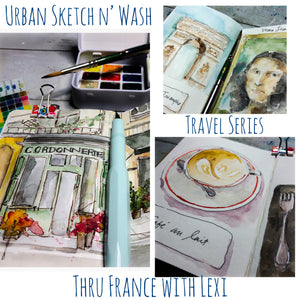 ClassDetails:  What
:
Urban Sketch n' Wash Journey thru France
We are traveling through France this month, and diving deep into urban sketch n' wash art journaling. Our journey will take us to a café called Traize, the Eiffel Tower, Arc de Triomphe, The Louvre, picturesque villages in France and through beautiful store fronts in Paris. Absolutely no experience required, this is a loose sketch and paint style that's sure to loosen you up and get you ready for some plein air painting excursions.
As per usual plein air watercolor journeys, we will use a limited palette of colors, do a lot of color mixing, master the scribbly sketches and document our virtual journey through France. I will use the supplies listed here in our supply list, but I will also use a few rubber stamps to finish off that "art journal" look we all love so much. I will list the additional items, should you like to grab them for yourself.
Please note, the instant download does not include the passport journal or passport sticker (the price reflects that as well). However, I don't want you to miss out on purchasing any of these goodies, so you can find both here: