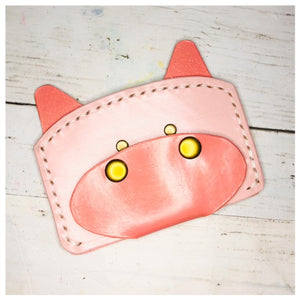 Oink Oink! This cute little pink piggie wallet is sure to make you giggle every time you pull her out of your bag, and don't get me started on the conversation starter she'll be! The wallet is made of two pieces of hand cut 4oz leather. I had sand and bevel the edges, dye and stitch these babies together. Upon completion I condition the leather and wax the edges. All stitching is by hand, using a standard saddle stitch and waxed linen. This style of wallet is meant for a couple of cards and cash, but will likely stretch over time to accommodate more cards. Snap closure is antique bronze finish. This is not a light weight wallet, it's meant to last, hence the 4oz leather, you'll be surprised just how durable this cute little wallet it!

Wallet Details:
4" x 4.5" (I'm including the ears and strap in the height measurement)

*Leather is a completely natural material, and as such imperfections are very common. I use every piece of leather, the imperfections and scars are just as beautiful in my eyes, so please carefully look at all the pictures. Best to have no surprises.