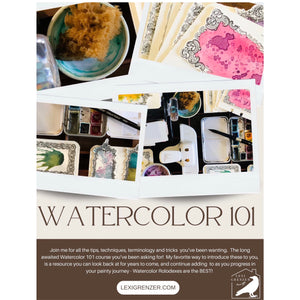 Watercolor 101 with Lexi – Rolodex & Midori Optional!
What: Step by Step Guide of Watercolor Terminology, Techniques and Tools
When: Saturday, January 6th (Live Lesson, followed by Replay)
Time: 10-1pm PST
Join me for a comprehensive beginners guide to watercolor, where we learn about the terminology, techniques and tools of the medium! We will create beautifully illustrated cards with all of the techniques and vocab, so that you can store them on book rings, a small journal or even a rolodex (my preferred storage option). Slowly build your watercolor skillset while also creating a super functional resource to look back on whenever you need a refresher. I'm going to approach this resource and course like you've never watercolored in your life. However, as a person who has played a bit but would like to know more or even someone who simply likes pretty art supplies and resources, you will walk away with a solid understanding of the medium – so really anyone is welcome!
Watch the quick recap video here, explaining the Midor and Rolodex…
Class Supplies:
OR
Optional: TRAVELERS NOTEBOOK INSERT - WATERCOLOR ARTIST'S PAPER – You want the PASSPORT size!!  (for midori style journaling) – These are just the watercolor journal inserts, NOT the exterior leather journal. I will be selling these via pre-order before the class begins.
Kits Include (Shipping Included in Cost):
 (2) 9" x 12" Watercolor Paper with Frames
(1) 9" x 12" Watercolor Paper Color Chart (for 12 colors)
Classroom/Class Outline/Intellectual Property
Facebook Messenger Classroom - We have a private Facebook Messenger group for each of my online classes. If we are not "friends" already on Facebook, please send me a friend request here. I will add you to this Messenger group. It's a place to communicate with fellow students, share work, and ask questions.
At the time of purchase you will receive an email from Send Owl, if you do not receive an email within 20 minutes of your purchase, please check your trash or spam mail. In the event that you do not have an email, please reach out, and I will send it to you manually. The Send Owl email includes your class outline and class details. You have three download attempts on this file. In the event that you receive a notice that your access has expired, simply email me, and I'll reset your access manually. Your Zoom class link will be included in your class outline. This same code will be used for the 4wk duration.
I own the intellectual property of the work and techniques taught in these classes. I do not sell nor am I sponsored by any of the company's products that I use in my classes. Please do not license the content created in my classes, duplicate or reteach the classes (online, in person or via recording). These courses are intended for your own personal growth, and I'm delighted to share my love of art with you!