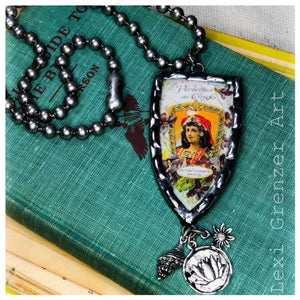 Class Details: Soldering 101

When: Instant Access/Download
What: All the things you need to know about starting to solder jewelry pendants

Where: Online (Instant Download)
It's been a long time coming, but I FINALLY created a soldering 101 class for all of you newbies! Who knows, you might even learn something new, even if you've soldered before! Join me for an online lesson in which I teach you to work with scalloped and straight edge copper tape, work on different shaped glass, create a thick & clean solder application, solder on jumprings, add solder "balls", how to de-grease, how to polish, how to patina, how to re-tin your soldering iron and how to create a fun faux mercury glass effect in your soldered pendants.
At the time of purchase you will receive an email from Send Owl, if you do not receive an email within 20 minutes of your purchase, please check your trash or spam mail. In the event that you do not have an email, please reach out, and I will send it to you manually. The Send Owl email includes your class outline and class details. You have three download attempts on this file. In the event that you receive a notice that your access has expired, simply email me, and I'll reset your access manually. Your Zoom class link will be included in your class outline. This same code will be used for the 4wk duration.
Please note that I make my living teaching classes and as a licensing artist. I do not sell nor am I sponsored by any of the company's products that I use in my classes. I ask that you please not take my classes and reteach them online, through social media or in-person classes. My classes are for your personal growth. Please do not license, copy or duplicate content created in my classes. I so appreciate you taking class with me and adore having you here!