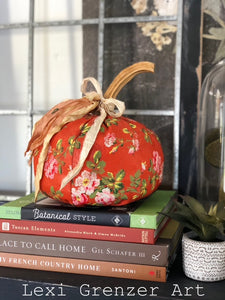 IOD Chintz Pumpkin
With Lexi
-Instant Download-
All things fall…these are a few of my favorite things! I've had this idea brewing since the IOD Paint Inlay Chintz first came out, but we were in the thick of Christmas, so I patiently waited for fall to roll around again! I had an absolute blast making this plump and oh so chic little pumpkin, and I just know you will all create some seriously incredible pumpkins with assorted inlays, colors and ribbons. Really the options and customization are endless! Happy Fall Ya'll!!!
At the time of purchase you will receive an email from Send Owl, if you do not receive an email within 20 minutes of your purchase, please check your trash or spam mail. In the event that you do not have an email, please reach out, and I will send it to you manually. The Send Owl email includes your class outline and class details. You have three download attempts on this file. In the event that you receive a notice that your access has expired, simply email me, and I'll reset your access manually.
Please note that I make my living teaching classes and as a licensing artist. I do not sell nor am I sponsored by any of the company's products that I use in my classes. I ask that you please not take my classes and reteach them online, through social media or in-person classes. My classes are for your personal growth. Please do not license, copy or duplicate content created in my classes. I so appreciate you taking class with me and adore having you here!