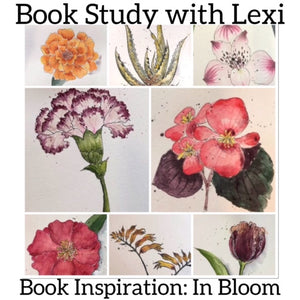 Book Study with Lexi
Book Inspiration: In Bloom by Rachel Reinert
6 Instant Download Videos (9 flowers/plants)
New to watercolor? Excited to start, but scared to at the same time? This is the perfect beginner watercolor course! I'll be using Rachel Reinert's book , In Bloom, as my book study. It is important to note, that I do NOT teach the drawing, Rachel does a tremendous job of that in her book (step by step - super easy to follow). However, I walk you through the ins and outs of how to watercolor these beauties! There are 6 video lessons, but I show you how to paint 9 flowers/plants. Each lesson is pre-recorded, you are most welcome to download as well! There are no live lessons for this series, but I am ALWAYS available via email if you have any questions! It's also important to note that you do NOT have to have the same colors as I use. This Michaels watercolor set is PERFECT, as it offers a great deal of similar colors to mine.
This course includes 6 video lessons but we cover 9 flowers/plants. The following flowers/plants are covered in this course:
Lesson 1: Alstroemeria pg.14
Lesson 2: Gerbera Daisy pg.50
Lesson 3: Marigolds & Begonias pg. 62 & pg. 68
Lesson 4: Tulip & Camellia - pg. 83 & pg. 59
Lesson 5: Carnation & Aloe pg. 91 & pg. 44
Lesson 6: Kangaroo Paw pg. 108
Class Supplies:
At the time of purchase you will receive an email from Send Owl, if you do not receive an email within 20 minutes of your purchase, please check your trash or spam mail. In the event that you do not have an email, please reach out, and I will send it to you manually. The Send Owl email includes your class outline and class details. You have three download attempts on this file. In the event that you receive a notice that your access has expired, simply email me, and I'll reset your access manually. Your class link will be included in your class outline.

Please note that I make my living teaching classes and as a licensing artist. I do not sell nor am I sponsored by any of the company's products that I use in my classes. I ask that you please not take my classes and reteach them online, through social media or in-person classes. My classes are for your personal growth. Please do not license, copy or duplicate content created in my classes. I so appreciate you taking class with me and adore having you here!