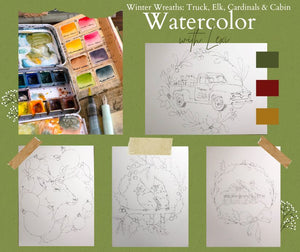 Watercolor with Lexi – Winter Wreaths: Truck, Cabin, Elk & Cardinals
What: Step by Step Guided Watercolor Lessons
When: Two Opportunities to Watch (1 LIVE or 1 Replay each week)
Wednesday Morning Session 9:30am to 11:30am PST (11/15, 11/29, 12/06 & 12/13)
The watercolor printouts were a HUGE hit, and the students asked for more – WOOT! The next round is a four week series, and our painting content is four winter wreaths. Each wreath is just a wee bit different, and we'll paint a vintage style pickup truck, a pair of cardinals, a snowy cabin and an elk. What you might ask are watercolor printouts?? I take the stress out of drawing the projects for you, and you'll receive 4 printouts, printed on cold press watercolor paper in 140lbs. Yes, this means you get to simply enjoy the process of painting – so fun, right?! You will have one live option with me each week or if you prefer, catch the full replay (and yes you can download these lessons). You choose what works best for your schedule. This is a fantastic workshop for beginners, so join at any level in your painterly journey.
Class Supplies:
Classroom/Class Outline/Intellectual Property
Facebook Messenger Classroom - We have a private Facebook Messenger group for each of my online classes. If we are not "friends" already on Facebook, please send me a friend request here. I will add you to this Messenger group. It's a place to communicate with fellow students, share work, and ask questions.
At the time of purchase you will receive an email from Send Owl, if you do not receive an email within 20 minutes of your purchase, please check your trash or spam mail. In the event that you do not have an email, please reach out, and I will send it to you manually. The Send Owl email includes your class outline and class details. You have three download attempts on this file. In the event that you receive a notice that your access has expired, simply email me, and I'll reset your access manually. Your Zoom class link will be included in your class outline. This same code will be used for the 4wk duration.
I own the intellectual property of the work, drawings and techniques taught in these classes. Please do not license the content created in my classes, duplicate/copy or reteach the classes/content (online, in person or via recording). These courses are intended for your own personal growth, and I'm delighted to share my love of art with you!